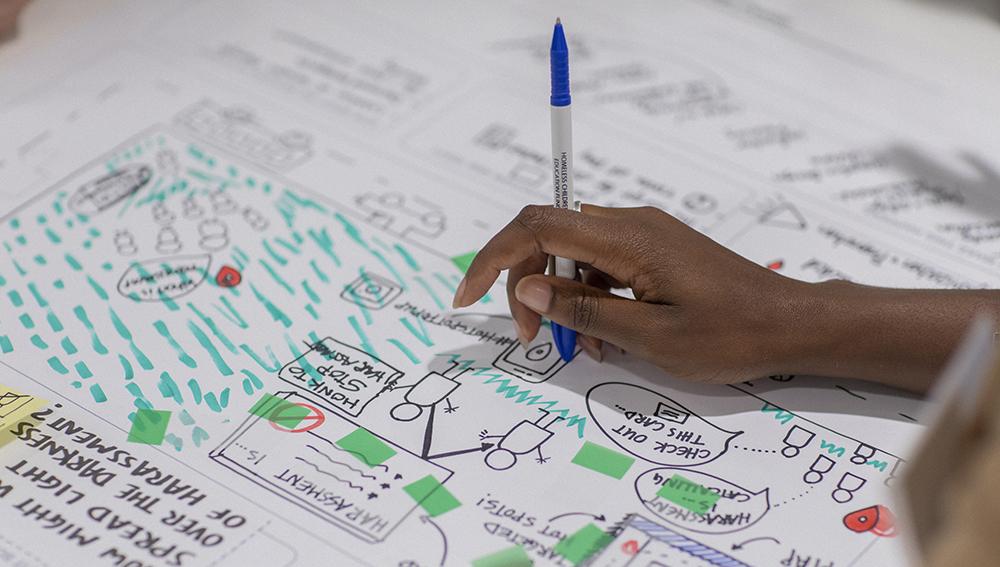 Human-Centered Design Capacity Building Cohort
The Human-Centered Design Capacity Building Cohort seeks to increase the organizational and programmatic capacity of nonprofits so that they can better serve vulnerable populations. Human-centered design is a creative approach to solving complex community problems.  In human-centered design, the process starts with the people being served.  By putting people at the center of our work, we will find ways to design and implement programming that is more efficient and effective.  In this cohort, participants will learn the tools of human-centered design and will use these tools to design a new initiative, serve a new population, or strengthen their existing work.   
Organizations will attend three training sessions designed to teach human-centered design methods and guidance on applying the methodology towards an organizational initiative.  Each organization will also receive an unrestricted grant of $3,000 for participating. Additionally, at the successful completion of the program, organizations will have exclusive access to apply for a grant of up to $10,000 to implement what they have learned through the cohort. 
Timeline and Expectations
The active program period runs from December 2019 through February 2020.  Participation in all the below activities by the organizational team (minimum one staff member and one board member) is mandatory to the successful completion of the program. Additionally, there will be some required assignments between sessions. 
Important Dates and Deadlines
Oct. 21, 2019
3 p.m.

Informational Conference Call 
Conference Call Number:  1-877-977-1977
Participant Code:  3138569
RSVP:  awomer@cfwestmoreland.org

Nov. 4, 2019 at midnight
Application deadline
Dec. 12, 2019
9 a.m. to 3 p.m.
Session 1: Intro to Human-Centered Design (HCD)
Jan. 14, 2020
9 a.m. to 3 p.m.
Session 2: HCD Case Studies and Implementation
Feb. 14, 2020
9 a.m. to noon
Session 3: HCD Cohort Presentations
NOTE: At least one board member is required to attend.
APPLY ONLINE
Application deadline: Nov. 4, 2019
QUESTIONS? 

Please contact Phil Koch, executive director of The Community Foundation of Westmoreland County, by email pkoch@cfwestmoreland.org or call 724-836-4400.