The Community Foundation of Westmoreland County is an affiliate of The Pittsburgh Foundation. View our joint publications and reports below.
---
Forum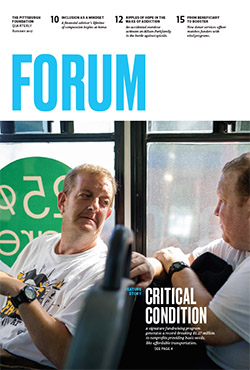 The Forum Quarterly is The Pittsburgh Foundation's newsletter. The most recent issue contains the following stories:
Critical Condition — A signature fundraising program generates a record-breaking $1.27 million to nonprofits providing basic needs.
Inclusion as a Mindset — A financial advisor's lifetime of compassion begins at home.
Ripples of Hope in the Wake of Addiction — An accidental overdose activates an Allison Park family in the battle against opioids.
From Beneficiary to Booster — New donor services officer matches funders with vital programs.
And many more.
Past Forum Issues
---
Report to the Community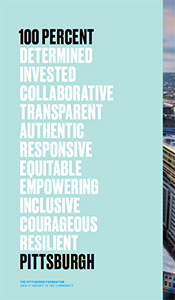 IN ANY OTHER YEAR'S REPORT ABOUT YOUR COMMUNITY FOUNDATION'S WORK, we would focus on how we've been fulfilling our primary mission — improving the quality of life for residents in the Pittsburgh region. But we can't report fully and honestly without first addressing the recent significant events that brought anxiety and uncertainty into our region and influenced the direction of our agenda.  Download Report PDF 
Past Reports