A Legacy of OpportunityA scholarship designed to help first-generation college students pursue their passions.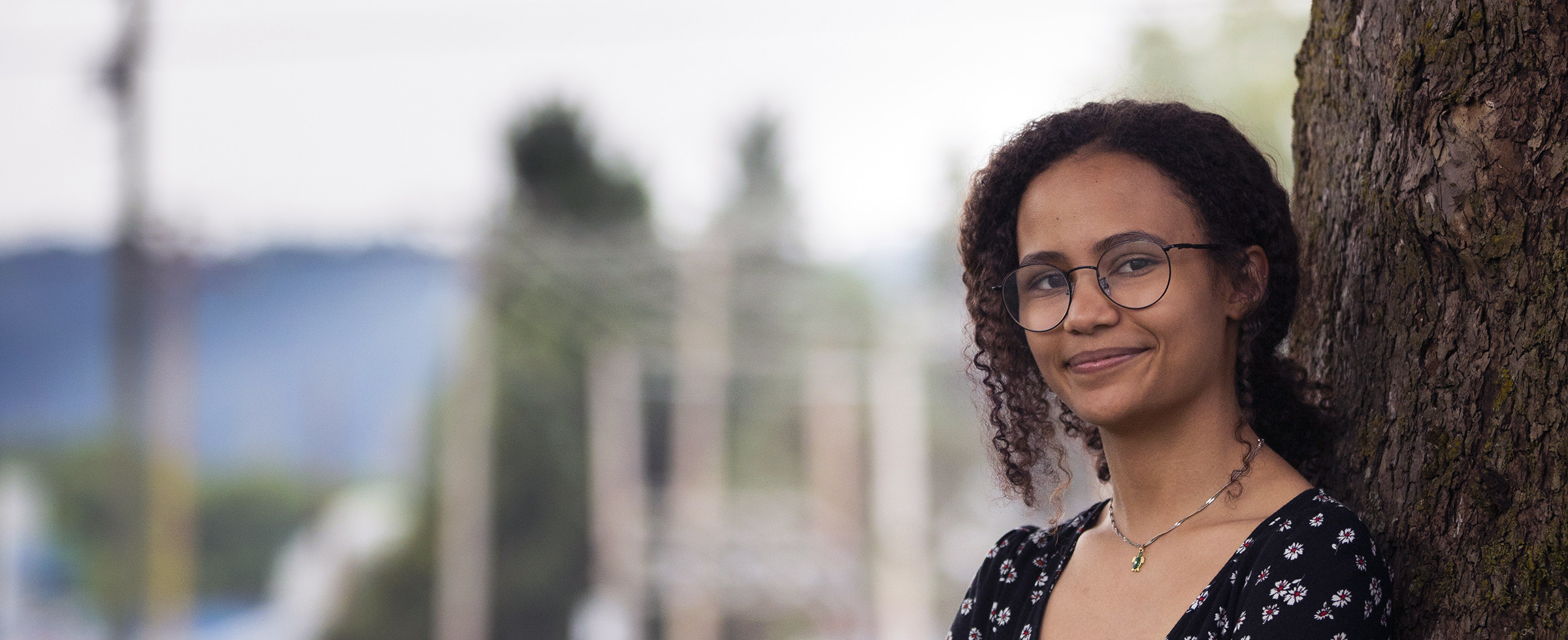 As a first-generation college student, Burrell Area High School senior Leandra Nealer had a long list of items to decipher on her own. The burden of SATs, ACTs, the Common Application, FAFSA, PHEAA, essays, deadlines, loans and scholarship applications, plus five Advanced Placement classes, left her feeling overwhelmed and a bit lost.
"Before I started applying to colleges and for scholarships, I never saw being a first-generation college student as a disadvantage. I didn't really think about it at all," said Nealer. "It's odd how you don't even see yourself as something until you check a box on an application. Then you realize that quality makes you eligible for something."
Using The Pittsburgh Foundation's online scholarship search, Nealer discovered that she qualified for the Eugene J. Andolsek Scholarship from The Community Foundation of Westmoreland County (CFWC). The scholarship was created in memory of Eugene Andolsek, who never received the college education he was promised by his father. Following his high school graduation, Eugene's father told him that he would attend business school instead of pursuing his own passion at college.
"Eugene dreamed of going to college, but his father shattered that dream. And it lived with him forever," said Andolsek's first-cousin, Carole Beam, who established the scholarship fund in Eugene's name. "Supporting students who want to be the first in their family to go to college and pursue their passion like Eugene wanted to is a great way to honor his memory."
This year, Nealer became the third person to receive the Eugene J. Andolsek scholarship since the fund was established in 2009.
"The other scholarships I've received are strictly for academics, which makes the Andolsek scholarship unique because I'm being recognized for something else that has made my experience planning for college a little different," Nealer says. "This scholarship is a recognition of a lot of hard work."
Because two-thirds of today's high school students have at least one parent who has attended college, most high school students have an adult at home who has experienced the complexity of the application process. However, first-generation students, like Nealer, don't have that same resource. Instead, their resources include guidance counselors, teachers and themselves.
The guidance department at Burrell Area High School provides all students with the same resources and information to assist with college, scholarship and loan applications. But Guidance Counselor Sandra Oskin says many students disregard the information. Nealer listened and followed through.
"Leandra was remarkably independent," said Oskin. "She never came to me with the expectation that I would lay everything out for her. Instead, she worked through the process herself, only coming to me for reassurance that she was doing everything correctly."
Nealer's parents encouraged her through the entire process and reminded her how proud they were. Her father also told Nealer about every scholarship he found for which he thought she should apply. Though her parents were supportive, they had little advice to offer. Nealer managed everything from researching schools to scheduling for the SAT to applying for financial aid on her own.
Knowledge of the application process isn't the only barrier for students like Nealer. First-generation college students rely heavily on financial aid and scholarships to afford their education. According to a study conducted by the U.S. Department of Education, 77 percent of first-generation college students come from households making less than $50,000 per year.
"Financially, it's been very daunting," said Nealer, who will attend the University of Chicago to pursue a degree in chemistry. "The University of Chicago was generous with financial aid and scholarships, but I was still struggling to figure out how I was going to afford this year and the next. I really wasn't sure I was going to be able to go to my dream school even after I was accepted."
Those fears are well founded. The U.S. Department of Education reports that 54 percent of first-generation college students leave before graduating because they run out of money. The Eugene J. Andolsek scholarship addresses this obstacle by dividing the scholarship and awarding it over four years as recipients continue pursuing their degree.
"This scholarship was designed to enable and encourage the recipients to receive it over four years as long as they continue to meet the criteria, because Eugene would have wanted to support these students as much as possible" said Beam.
As this year's Eugene J. Andolsek scholarship recipient, Nealer will receive $3,000 annually over the next four years, totaling an award of $12,000.
"The Andolsek scholarship is allowing me to attend the university I've dreamed of, but it has also made me aware of the responsibility I have as a first-generation college student and a scholarship recipient," said Nealer. "People like my parents and Eugene Andolsek have left a legacy for other people like me who otherwise wouldn't have these opportunities."