The Community Foundation of Westmoreland County is an affiliate of The Pittsburgh Foundation. View our joint publications and reports below.
---
Forum


View Forum

The Forum Quarterly is The Pittsburgh Foundation's newsletter. The most recent issue contains the following stories:

FOURTH PATHWAY  Immunology research is producing new tools to fight cancer.
LASTING LEGACY  Carol Massaro grew her family's philanthropy to help fund a cure for Alzheimer's disease.
RESEARCHING A RARITY  Sickle cell patients are front-of mind in a Pittsburgh Foundation grant to speed development of breakthrough therapies.
Past Forum Issues
---
Report to the Community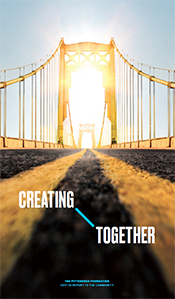 IN ANY OTHER YEAR'S REPORT ABOUT YOUR COMMUNITY FOUNDATION'S WORK, we would focus on how we've been fulfilling our primary mission — improving the quality of life for residents in the Pittsburgh region. But we can't report fully and honestly without first addressing the recent significant events that brought anxiety and uncertainty into our region and influenced the direction of our agenda.  Download 2017-18 Report PDF 
 
Past Reports